Welcome To Our Website
The High Altar - St Francis Church
A Message From The Brothers
'My dear parishioners, with all the love we have for you, we the brothers from Chester community, we would like to thank you all for all your care and support we have experienced during this difficult time. Thank you so much for all the phone calls, cards, gifts and most of all for all your prayers which you offered to our Risen Lord Jesus Christ for us.
We are keeping well and all of us, saved by God from the virus, we pray for you every day and offer the Most Holy Eucharist for all the intentions you have given us. We hope you are well and safe in your homes. We hope to see you soon back in the Church as we miss you so much.
May God bless you all with his Peace and Love.'
Br Jaroslaw Konopko OFM Cap Parish Priest
---
Cardinal Nichols: Now Is The Time For The Phased Reopening Of Churches
Saturday, May 30th, 2020 @ 5:59 pm
In his homily for Pentecost Sunday, Cardinal Vincent Nichols questions why churches have not been allowed to open for private prayer. The homily can be read at: www.cbcew.org.uk
---
A Message From The Bishops Of England And Wales
Friday, May 1st, 2020 @ 10:58 am
The Bishops of England and Wales have issued a Pastoral Message to the Church at this time. The message can be read at: www.cbcew.org.uk
Please pray that the Bishops' negotiation with HM Government on the potential re-opening of the churches will be guided by the Holy Spirit.
---
The Most Holy Trinity Sunday 7th June 2020
Exodus 34:4-6.8-9; Ps Daniel 3:52-56; 2 Corinthians 13:11-13; John 3:16-18
God is the deepest mystery of our lives and is infinitely more expansive than our tiny minds are capable of imagining. If we had been left struggling on our own to understand God we could never have established that he is a God of tenderness and compassion, slow to anger and rich in kindness and faithfulness. Without the help of Jesus, how would we ever have known that as a community we are linked like a family of people to him. Because God loves us and wants us to return to that love, he offers us a share in his own life.
However, to come to an awareness of our true dignity as children of God demands a great deal of change and conversion on our part. It requires a basic readiness to let go of everything which binds us to this world. The oneness of God and the unique place he should hold in our lives brings home how easily we can be lured into worshiping false gods.It's frightening the ease with which the trappings of money, power and prestige can take the place of God. The generosity of the Father in sending his Son into the world as a Saviour contrasts greatly with all forms of human selfishness to which we are prone. From the moment we were baptised in the name of the three persons of the Trinity, we pledged to live our lives under their protection and do everything in their name so that, when life is over, we shall go to meet them and live in their company forever. For all this to happen we need to listen to the Spirit inspiring us and drawing us forward in search of the truth.
---
Shrewsbury Cathedral Online Services
Here is a link to the online masses and services: Shrewsbury Cathedral Webcam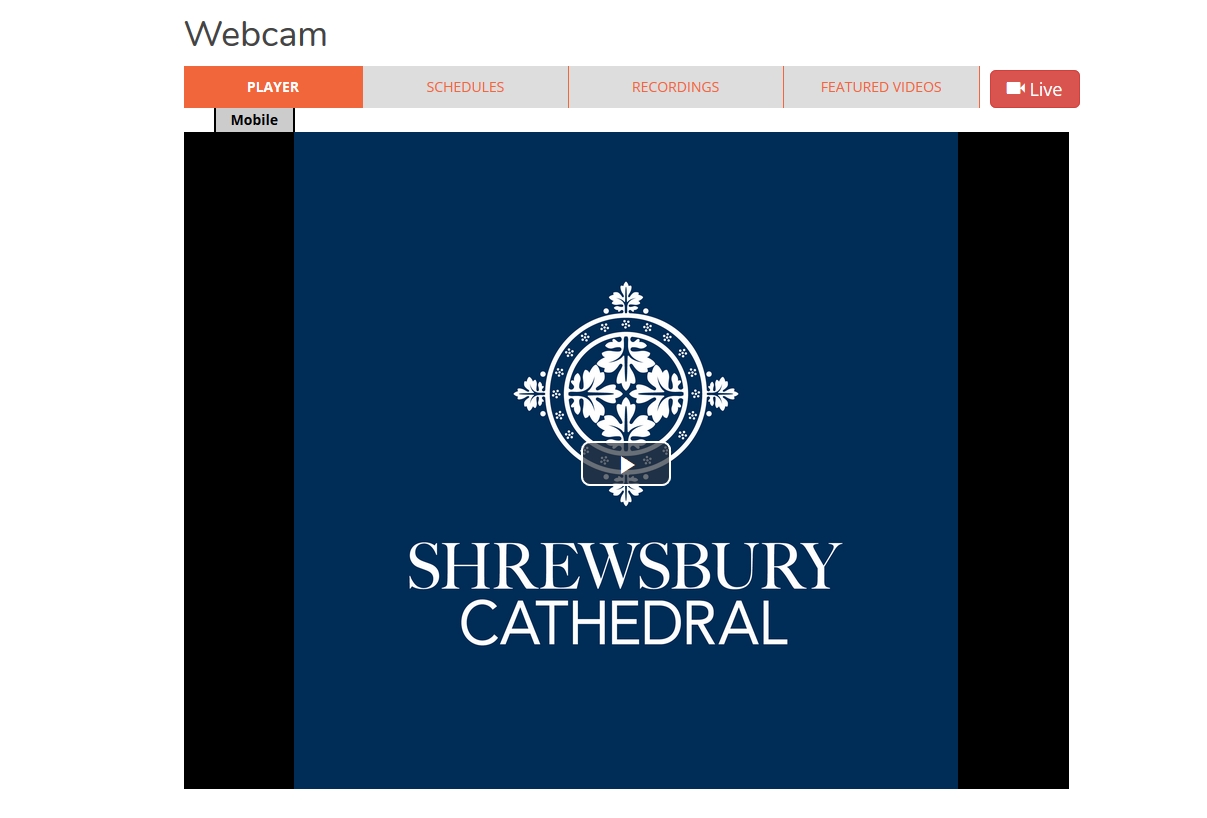 Prayer for an Act of Spiritual Communion
My Jesus, I believe that you are in the Blessed Sacrament
I love you above all things, and I long for you in my soul
Since I cannot now receive you sacramentally, come at least spiritually into my heart
As though you are already there, I embrace you and unite myself entirely to you;
Never permit me to be separated from you, Amen.

---

Acts Of Public Worship Suspended In Catholic Churches In England And Wales

Wednesday, March 18th, 2020 @ 11:47 am

A letter from the President and Vice-President on behalf of all the Bishops of the Conference

Dear Brothers and Sisters in Christ,

In response to the Coronavirus pandemic, so many aspects of our lives must change. This includes the ways in which we publicly express our faith. It is very clear that, following official advice and in order to keep each other safe, save lives and support the NHS, at this time we must not gather for public acts of worship in our churches. This will begin from Friday evening, 20th March 2020, until further notice.

Our churches will remain open. They are not closing. They will be a focal point of prayer, where you will find solace and strength. In visiting our churches at this time, we will observe with great care the practices of hygiene and the guidance on social distancing.

However, the celebration of Mass, Sunday by Sunday and day by day, will take place without a public congregation.

Knowing that the Mass is being celebrated; joining in spiritually in that celebration; watching the live-streaming of the Mass; following its prayers at home; making an act of spiritual communion: this is how we share in the Sacrifice of Christ in these days. These are the ways in which we will sanctify Sunday, and indeed every day.

We want everyone to understand that in these emergency circumstances, and for as long as they last, the obligation to attend Mass on Sundays and Holy Days is removed. This is, without doubt, the teaching of the Church (Catechism of the Catholic Church 2181). This pandemic is the 'serious reason' why this obligation does not apply at this time.

You will find more details about the pathway of prayer and sacramental life we are now to take here: When Mass cannot be celebrated publicly (A4) Download

Your own bishop and parish priest will provide further support, encouragement and information about our way of prayer together in the coming weeks.

The second vital aspect of these challenging times is our care for each other. There are so many ways in which we are to do this: being attentive to the needs of our neighbour, especially the elderly and vulnerable; contributing to our local food banks; volunteering for charitable initiatives and organisations; simply keeping in touch by all the means open to us.

During these disturbing and threatening times, the rhythm of the prayer of the Church will continue. Please play your part in it. The effort of daily kindness and mutual support for all will continue and increase. Please play your part in this too. For your commitment to this, we thank you.

'The Lord is my shepherd, There is nothing I shall want.'

May God bless us all.

Cardinal Vincent Nichols President of the Bishops' Conference

Archbishop Malcolm McMahon OP Vice-President of the Bishops' Conference

Information and advice on the Coronavirus can be found here: Coronavirus Resources

---

About Us

Welcome to one of Chester's oldest Roman Catholic Churches, St Francis of Assisi. Set in the heart of Chester City Centre, near the Grosvenor Museum and Race Course, it was originally built for the Order of Friars Minor Capuchin. The construction of St Francis Church began in 1862 and was finally finished in 1875. It is now a thriving city Catholic Church serving a wide community over the Chester area.

---

Contact Us

The Brothers

Brother Jarek (Guardian and Parish Priest)
Brother Patrick (Vicar)
Brother Adrian
Brother Jim
Brother Jinson

Email

stfrancis.chester@gmail.com

Telephone

01244 351331

Postal Address

St Francis of Assisi RC Church
Grosvenor Street
Chester
Cheshire
CH1 2BN

---

Confession - The Sacrament of Reconciliation

Confessions available on request. As long as there is a Priest available within the Friary the sacrament of reconciliation can be heard any time by going to the green door in the car park.

Sacraments

Baptism and Marriage Sacraments are available after consultation with the Parish Priest.