Welcome To Our Website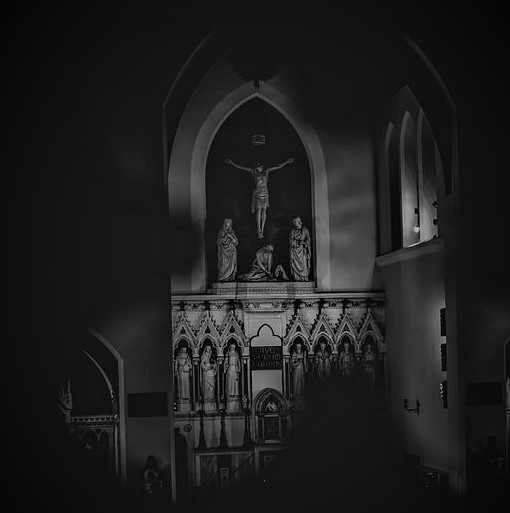 The High Altar - St Francis Church - Lent 2021
Third Sunday of Lent Sunday 7th March 2021
Exodus 20:1-17, 1 Corinthians 1:22-25, John 2:13-25
Taken from the Gospel for Sunday 7th March 2021 (John 2:13-25): The Cleansing of the Temple.
Just before the Jewish Passover Jesus went up to Jerusalem, and in the Temple he found people selling cattle and sheep and pigeons, and the money changers sitting at their counters there. Making a whip out of some cord, he drove them all out of the Temple, cattle and sheep as well, scattered the money changers' coins, knocked their tables over and said to the pigeon-sellers, "Take all this out of here and stop turning my Father's house into a market." Then his disciples remembered the words of scripture: Zeal for your house will devour me. The Jews intervened and said, "What sign can you show us to justify what you have done?" Jesus answered, "Destroy this sanctuary, and in three days I will raise it up." The Jews replied, "It has taken forty-six years to build this sanctuary: are you going to raise it up in three days?" But he was speaking of the sanctuary that was his body, and when Jesus rose from the dead, his disciples remembered that he had said this, and they believed the scripture and the words he had said. During his stay in Jerusalem for the Passover many believed in his name when they saw the signs that he gave, but Jesus knew them all and did not trust himself to them; he never needed evidence about any man; he could tell what a man had in him.
After spending a few minutes considering this Gospel, continue by reading Fr Henry Wansbrough's reflection. According to John, this scene took place at the beginning of Jesus' ministry, on the first of Jesus' four visits to Jerusalem. At each subsequent visit the Temple authorities lay in wait for Jesus, increasingly keen to eliminate him, but unable to do so till his Hour had come. The other gospels place both this incident and all other scenes of Jesus in Jerusalem as the final climax of Jesus' ministry. Whichever is correct, the incident is the basic cause of Jesus' arrest and his tortured death. By his action Jesus had demonstrated that the worship carried out in the Temple had become vain in God's eyes owing to its lack of integrity and must be superseded. To the Temple authorities this was intolerable, and he must be removed. Again, Jesus demanded a complete reversal of standards. His puzzling saying about building the Temple anew in his body was at last understood by his disciples after his resurrection when they realised it meant the Temple that was his Body, the Church. The material building which had been the centre of worship was no longer important. Henceforth all worship would take place in any place, but within the Christian community. The community - or the Church - was now the place of sanctification and of prayer to God.
What does it mean to think of the Church as Jesus' Body? What does it mean to you to be a member of Christ's Body, the Church?
Dom Henry Wansbrough OSB.
Special thanks to the Trustees of The Wednesday Word. The full version is available here.
---
'Open Churches Vital for Resilience during Lockdown'Cardinal Vincent Nichols
Monday, January 4th, 2021 @ 9:23 pm
With the announcement of a new lockdown for England to curb the rapid spread of COVID-19, Cardinal Vincent Nichols, President of the Catholic Bishops' Conference of England and Wales, said:
"The regular practice of our faith in God is a well-established source of both personal resilience and dedicated service to those in need. Such resilience and enduring service are vital in these difficult circumstances.
"I am glad that no measures have been introduced that would obstruct or curtail this essential source of energy for the common good. Catholic parishes will continue to serve the needs of their local community."
The latest lockdown restrictions came into force on Tuesday 5th January 2021.
The full statement and Government Guidance can be read at: www.cbcew.org.uk
---
St. Francis' Church Welcomes You
We are delighted to be open for worship and to have you here. Everyone joining us is asked to...
Wear a mask (unless exempt)
Sanitise your hands as you enter
Complete the track & trace: either by scanning the QR code, or by registering your name, number & today's date on the slips available at the entrance to the Church
Maintain strict social distancing inside the church

We don't want to see you go, but please leave the church promptly at the end, to allow our wonderful cleaners to do their job before the next Mass! Thank you.

---

For Catholics Who Wish To Receive Communion

During the pandemic, receiving communion on the tongue is discouraged
Please receive holy communion in the hand without kneeling down
The priest may only administer communion on the tongue if he sanitises his hands after each reception (a logistical nightmare!)
If you feel that you can't receive in the hand, you may wait to receive on the tongue after Mass

The maximum capacity of this church is 88. Our apologies to anyone who may not be able to attend after that number is reached.

---

Sunday Mass Times

Saturday 6:30pm - Vigil Mass
Sunday 8:00am
Sunday 9:45am - Family Mass
Sunday 12:00pm - Polish Family Mass
Sunday 4:30pm - Polish Mass

Saturday and Weekday Mass Times

Saturday 12:00pm
Monday 12:00pm
Tuesday 12:00pm
Wednesday 12:00pm
Thursday 12:00pm
Friday 12:00pm

Confession - The Sacrament of Reconciliation

Friday 11:00am - 12:00pm
Saturday 11:00am - 12:00pm
Saturday 4:00pm - 4:30pm

---

About Us

Welcome to one of Chester's oldest Roman Catholic Churches, St Francis of Assisi. Set in the heart of Chester City Centre, near the Grosvenor Museum and Race Course, it was originally built for the Order of Friars Minor Capuchin. The construction of St Francis Church began in 1862 and was finally finished in 1875. It is now a thriving city Catholic Church serving a wide community over the Chester area.

---

Contact Us

The Brothers

Brother Jinson (Administrator)
Brother Michael (Guardian)
Brother Loarne
Brother Adrian
Brother Jim
Br Cezary Szczesniak - with us for a year from September 2020
Br Mathew - from India

Email

stfrancis.chester@gmail.com

Telephone

01244 351331

Postal Address

St Francis of Assisi RC Church
Grosvenor Street
Chester
Cheshire
CH1 2BN

---

Shrewsbury Cathedral Online Services

Here is a link to the online masses and services: Shrewsbury Cathedral Webcam

Prayer for an Act of Spiritual Communion

My Jesus, I believe that you are in the Blessed Sacrament
I love you above all things, and I long for you in my soul
Since I cannot now receive you sacramentally, come at least spiritually into my heart
As though you are already there, I embrace you and unite myself entirely to you;
Never permit me to be separated from you, Amen.

---