News
RIP Brother Adrian Marsh OFMCap:Sunday 31st July 2022
Brother Adrian sadly passed away in the Countess of Chester Hospital on Sunday morning 31st July.
He was received into St. Francis' Church at 4pm on Monday 15th August. A Requiem Mass was held at 12 noon on Tuesday 16th August and was followed by interment at Pantasaph Cemetery. All were welcome to attend.
The Brothers would like to thank everyone for their kind expressions of sympathy following the death of Br. Adrian OFM.Cap and they would like to offer their appreciation to those who attended the reception into the Church on the Monday evening and also the Requiem Mass showing their support and respect for such a well-loved Brother.
✟ Requiescat in Pace ✟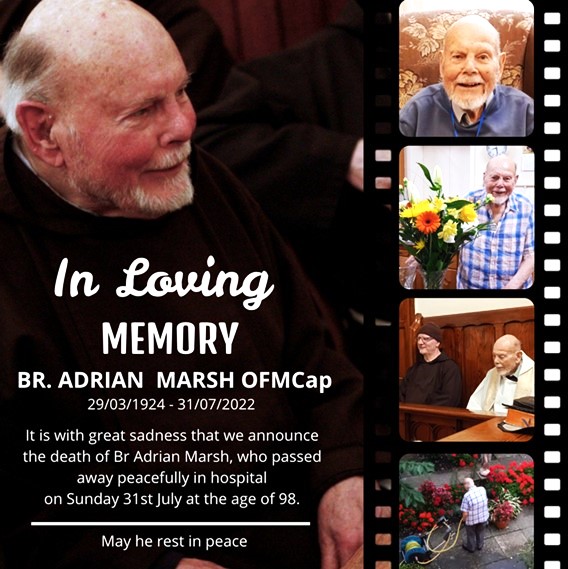 ---
'Capuchin Friars in Chester' - Our Facebook Page
Here is the link to our official parish website on Facebook called 'Capuchin Friars in Chester'.If you have a Facebook account click on the link below to follow and like the page.There will be items published in both, Polish and English.
www.facebook.com/capuchinsinchester/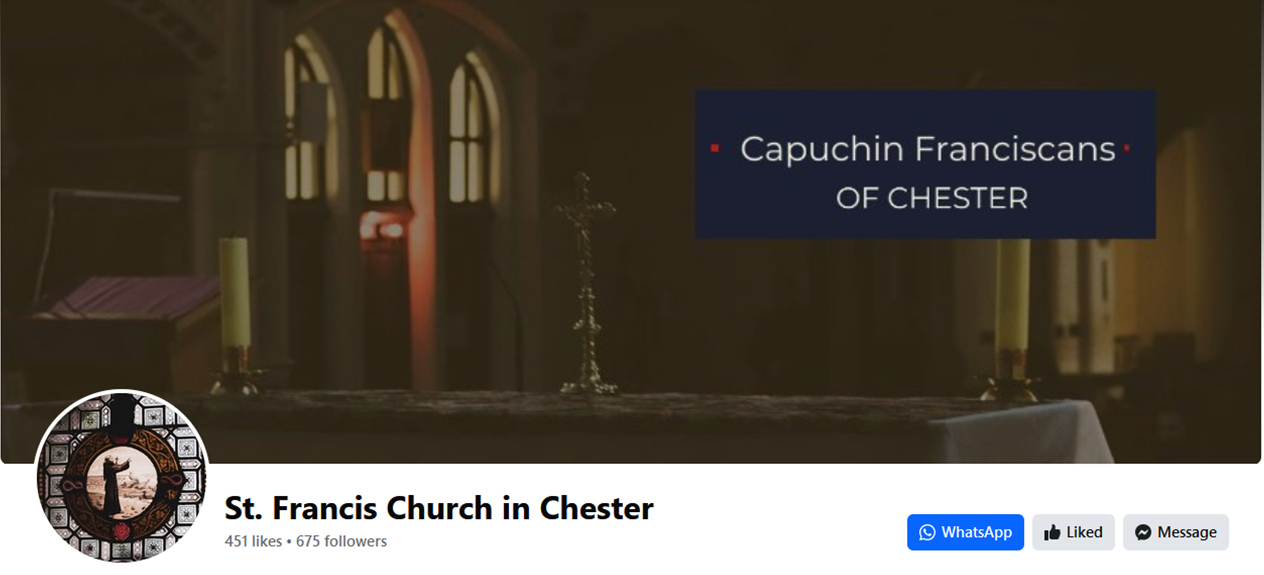 Here is a wonderful video from our Facebook page called 'Christ is risen!/Chrystus Zmartwychwstal!'
---
Bishop of Shrewsbury ordains eight deacons from Beda College in Rome: Wednesday 15th June 2022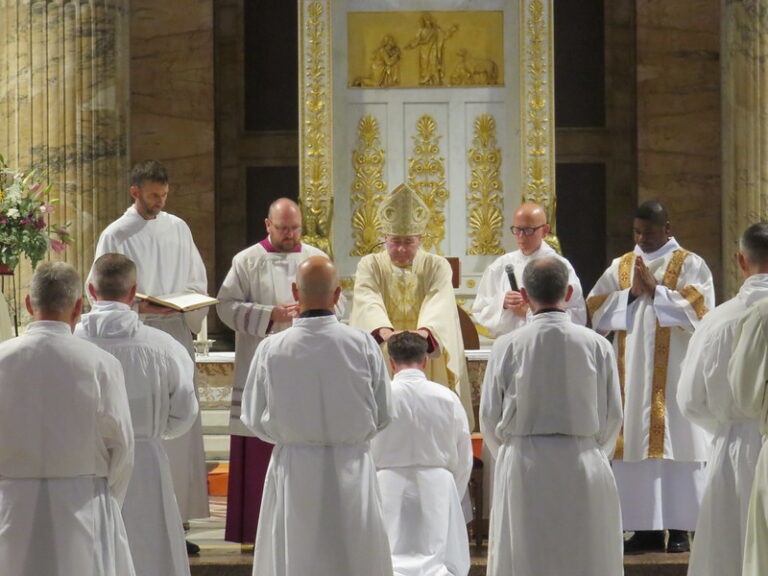 Eight third years students from the Pontifical Beda College were ordained deacon in the Basilica of St Paul's outside the Walls in Rome by Bishop Mark Davies of Shrewsbury, writes Josephine Siedlecka.
The new deacons are: Andrew Bishop from the Archdiocese of Southwark, Sean Henry from Shrewsbury, Shaun Doherty from Derry, Robert McMahon from Down and Conner, Gerard Moore from Killala, Paul Moores from Leeds, Wladimir Siwecki from Stockholm and Patrick van der Vorst from Westminster.
In his homily, Bishop Davies reminded the new deacons that their ordination called them to "a new intimacy with the Mystery of the Eucharist… For it is the light of this Sacrifice and Sacrament that we must learn to imitate Him who '….. came not to be served but to serve'" ….. He said: "As Saint John Paul II often reminded us, our vocation is found in the light of the Eucharist. And by returning to the Altar every day, we find the inexhaustible source of our life and ministry." …. "By striving to give ourselves more and more – and this is the secret – we know a joy which never fades, a joy which grows greater with every passing year."
Bishop Davies concluded: "Let us finally ask Our Lady then, in the consecration of her Immaculate Heart, to help us have a heart more and more like her Son's, so in the words of the Prayer of Ordination you will always remain at the Altar "strong and steadfast in Christ."
The Mass was attended by family and friends of the new deacons who travelled to Rome for the celebrations from several countries. After the service, a reception took place in the gardens of the college, under a glorious blue sky.
The full article and further details are available on the Diosese of Shrewsbury website by clicking on this link.
Article courtesy of Independent Catholic News www.indcatholicnews.com
---
Visits To The Sick and Elderly
Br. Jinson has been visiting and taking Holy Communion to the sick and elderly of the Parish. He is happy to do this going forward. If anyone would like Br. Jinson to visit a sick or elderly family member please contact him at St. Francis Church on telephone number Chester (01244) 315331 or via his email jinsoncap@gmail.com to make a convenient appointment for him to call.
---
Church Floor Repairs
UPDATE: Work on the church floor has now been completed. I would like to thank all the parishioners who so kindly donated towards the cost of the repairs. The total of £1,198.65 has been raised.
The donation box at the back of the church has now been removed and once again I offer my sincere thanks to you all. Br. Jinson
---
'Monthly First Friday Refreshments'Friday 2nd September 2022
Why not join us for tea, coffee, biscuits and cake each First Friday of the month after the 12 o'clock Mass in our Parish Hall. Money raised will go to charity. Look forward to seeing you.
---
First Saturday Devotion
Join us for First Saturday Devotion to The Immaculate Heart Of Mary. Prayers will be led by members of The St Francis Prayer Group. Part of The Holy Rosary will be said in different languages. Anyone who would like to lead a decade of the Holy Rosary is welcome to come forward.