News
Easter 2021
During Easter we are asked to pray for these Intentions: New Members of the Church; Vocations; The Right use of the Media; The Church; Human Work.
The community of Friars at St. Francis of Assisi, Chester would like to thank all parishioners who attended the Holy Week liturgies and a special word of appreciation to all who helped in whatever way towards their dignified celebration: Volunteer organisers assisting with information collecting and social distancing, all the church cleaners, decorators, flower arrangers, sacristy helpers, readers, special ministers, collectors, musicians and singers, and anyone else we may have overlooked.
God bless and reward all of you for your generous sharing of your time and your talents over the Easter period.
God bless,
Br. Jinson, New Administrator
Cafod Family Fast Day
Thank you for your generous donations to CAFOD's Family Fast Day during Lent. We featured Marian and her son Svondo in Zimbabwe in Lent 2018. The community vegetable garden that your donations helped provide is growing well and during the pandemic the family has survived on the vegetables. Your support has also helped to provide soap and handwashing stations in the garden and in family homes. This is just one of many long-term development projects that CAFOD has funded with the money from that Fast Day. Thank you for your steadfast support.
Further information is available on the CAFOD website.
Our New Facebook Page
Here is the link to our new official parish website on Facebook called 'Capuchin Friars in Chester'. Br Czarek is the administrator. If you have a Facebook account click on the link below to follow and like the page. There will be items published in both, Polish and English.
www.facebook.com/capuchinsinchester/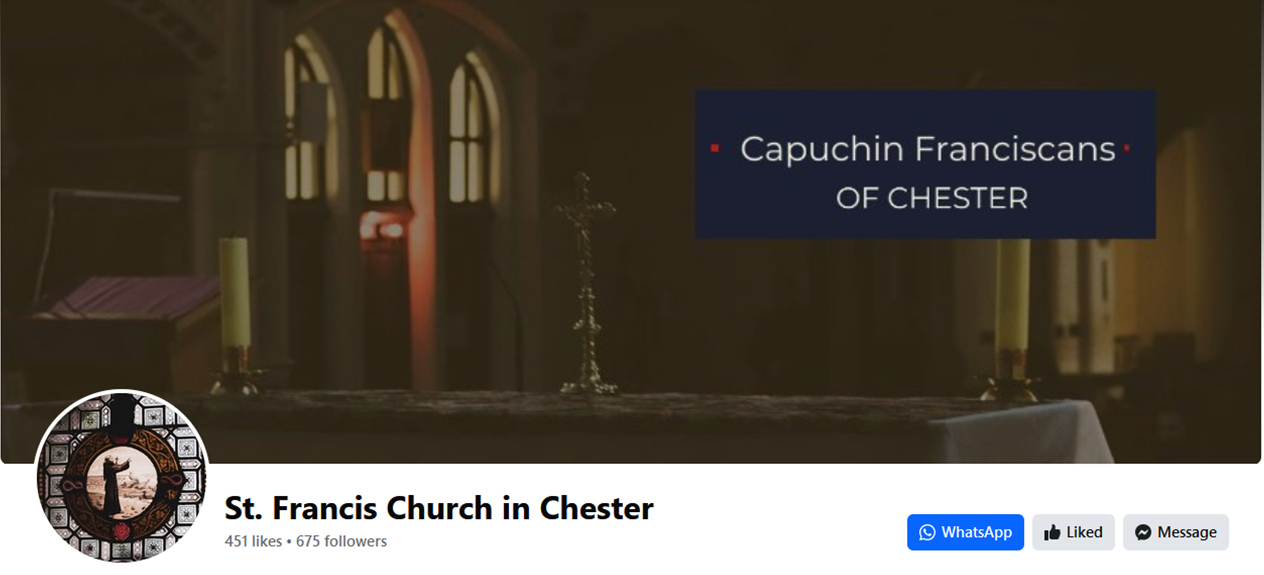 Here is a wonderful video from our Facebook page called 'Christ is risen!/Chrystus Zmartwychwstal!'
Our Young Adults Programme - The Living Room
Our Young Adults Programme is back with a new look...The Living Room a place to gather, grow and journey together in faith.
We are re-introducing our programme for young adults with a new look but with the same friendship, fun and faith we have been enjoying since January. The Living Room is a space for young adults to gather, grow and journey together in faith and friendship. We are inviting young adults (10+) to join us on the last Thursday of each month from 7pm. We'll have discussions, questions, time to chat and just be together.
Most importantly there will be space to connect with God in the midst of our busy lives.
If you fall into this age group, or know someone who does, please get in touch with us for details. The group currently meets virtually via Zoom but we hope that when circumstances allow, we will be able to meet in person! The dates are 29th April, 27th May, 24th June, 29th July and 26th August (you don't have to commit to all the dates, come for one or come for all!) Email: youth@dioceseofshrewsbury.org
The Logos & Literature: Elaborating the Divine
A series of online evening talks exploring some of the great themes of Catholic Christianity in writing old and new, with Catholic scholars and contemporary authors. Every second Thursday at 7:30pm from 29th April to the 8th July. For info and registration click on the following link www.christianheritagecentre.com/events/logos-and-literature
'Rally Rosary' to pray for the ending of the Corona Virus Pandemic
We, and other Parishes in the North West, have been asked by the Parish of St. Mary's Warrington to join with them to be part of their 'Rally Rosary' to pray for the ending of the Corona Virus Pandemic. This is taking place on Saturday 15th May at 1.15pm and will consist of 15 Decades of the Rosary followed by the Mysteries of Light. In order for our Parish to be part of this special event the Church will remain open following the 12 noon Mass on May 15th with the Rosary commencing at 1.15 pm.
Job Vacancy - Administrator
Inter-Diocesan Fuel Management Limited is a Catholic organisation currently recruiting an Administrator. The Company purchases gas, electricity, fuel oil and biomass for the majority of Catholic Dioceses in England and Wales. The role is working with others in the department processing invoices, collecting data and general administration duties.
This is a full-time post: 35 hours Monday to Friday based at the Curial Office, Birkenhead, Wirral. Salary: £16K -19K dependant on experience. Closing date 28 May 2021.Please send CV to Pauline McCulloch recruitment@dioceseofshrewsbury.orgFor further details please visit the website www.dioceseofshrewsbury.org/about-us/curia/vacancies
New Priest At St Francis
We have a new priest joining our community, Br Mathew. He is originally from India. He has been serving in the Edinburgh diocese since 2014. In January he went back to India. At our request he came back for few months to serve at St. Francis. The provinces will decide how long he is able to stay with us.
Br Mathew has been isolating for 10 days now and will be free for service the weekend of 27-28th February. Please join with us in welcoming him to St Francis and keep him in your prayers.
Covid Regulations and Restrictions
The Brothers would like to thank everyone for following the Covid regulations and restrictions. Special thanks to the stewards for helping people to understand what is required.
Decisions Made At The Provincial Chapter
As an outcome of our Provincial Chapter held on Monday 7th - Friday 11th September 2020 some changes have been made to our community;
Br Patrick Mulligan moved to Oxford on November 11th 2020.
Br Michael Welch came to Chester from Pantasaph as Guardian.
Br Loarne Ferguson came from Oxford on November 11th 2020.
There will be more changes in 2021 and these will be announced when they are confirmed at a later date.
Prayer Intentions
We welcome to our community and Parish Br Cezary Szczesniak who will stay with us for a year. Please keep him in your prayers.
Gift Aid 2021/22
For those people not taking part in the Gift Aid Scheme, or those regularly completing the white individual envelopes each week, if you wish to participate in the scheme and obtain a box of weekly envelopes please complete and date the special form and hand it to the parish priest. For every £1 donated by a taxpayer the Parish can claim 25p from H M Revenue & Customs. Please let us know if your circumstances change and you are no longer a taxpayer.
Chester Pastoral Forum
After the initial meeting of the 'Chester Pastoral Forum' which took place on 22nd October 2018 we have decided to improve the communication between the Catholic Parishes in Chester. From this week onward on our parish noticeboard next to our parish newsletter we will put the newsletters from all other parishes, so every our parishioner would be able to see what is going on in Catholic Parishes in Chester. On our website we have added links to the Chester Church websites below.
Links to Chester Catholic Church Websites
Holy Days Of Obligation 2021

Click on this link to the Liturgy Office for further information and a list of Liturgical Dates.

Feast Days

The 'Feast Days' page has been added to the main menubar. There is now a direct link to the Wiki page for each feast day. Just click the name to open up the information in a new tab.
See Feast Days


| Date | Feast Day (click on the name to find out further information) |
| --- | --- |
| | |
| Monday 3rd May | Saint Philip Apostle |
| | Saint James Apostle |
| Tuesday 4th May | The English Martyrs |
| Wednesday 5th May | Saint Asaph Bishop |
| Wednesday 12th May | Saints Nereus, Achilleus and Pancras c304 |
| Thursday 13th May | The Ascension Of The Lord Holy Day Of Obligation |
| | Our Lady of Fatima |
| Friday 14th May | St Matthias Apostle |
| | |