News
Prayer Intentions During Ordinary Time
During Ordinary Time (Autumn) – From September to Christ The King we are asked to pray for these intentions: Students and Teachers; The Spread of the Gospel; The Harvest; The Fruits of Human Work and the Reverent Use of Creation; Justice and Peace in the World; All victims of war; Young people; Prisoners and their Families.
Urgent Gift Aid Information Required 2021/22
St Francis Gift Aiders - could you check what number you have been allocated on your envelope collection box. The following numbers of gift aiders are missing contact details - 10, 38, 39, 40, 58, 65, 72, 95. At present we don't get any benefit from these. Please check and if you are one of these numbers please contact Br Jinson so he can get all the information he needs and the Church can claim your gift aid.
For those people not taking part in the Gift Aid Scheme, or those regularly completing the white individual envelopes each week, if you wish to participate in the scheme and obtain a box of weekly envelopes please complete and date the special form and hand it to the parish priest. For every £1 donated by a taxpayer the Parish can claim 25p from H M Revenue & Customs. Please let us know if your circumstances change and you are no longer a taxpayer.
Church Plans Novena to Pope St John Paul II in Bid to Halt Bill for Assisted SuicideThursday 14th October - Friday 22nd October 2021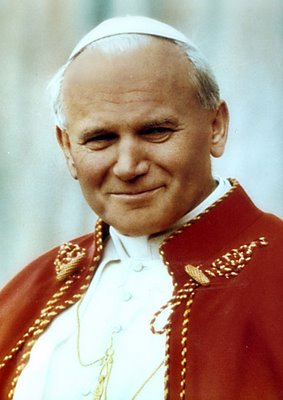 Catholics throughout England and Wales are to be invited to pray a novena for the intercession of Pope St John Paul II as part of the attempt to help to defeat the new assisted suicide Bill.
The Bishops of England and Wales are planning nine days of prayers to the saint after they saw that peers will debate the Assisted Dying Bill of Baroness Meacher at Second Reading in the House of Lords on his feast day of October 22.
The novena will conclude on the day of the debate.
The full article is available on the Diosese of Shrewsbury website by clicking on this link.
Bishop Davies urges Catholics to fight harder to defeat Meacher Bill after BMA goes neutral
The Bishop of Shrewsbury has asked Catholics to renew their efforts to oppose the assisted suicide Bill after the doctors' union dropped its opposition to the policy.
The Rt Rev. Mark Davies said the policy of neutrality adopted by the British Medical Association meant Catholics must be even clearer about why assisted suicide and euthanasia was wrong.
His comments came after the BMA adopted the new policy by a margin of four votes at its Annual Representative Meeting this week.
"The ambivalent position of assisted suicide adopted by members of the BMA must prompt us to be even clearer why the proposed change to the law constitutes a threat to some of the most vulnerable and also to the medical and caring professions which have long upheld the sanctity of human in treating patients," said Bishop Davies.
"The voice of the BMA as a whole may have fallen silent on this moral question following the narrowest of votes. However, the voices of those concerned by the threat of euthanasia must now be raised."
The full article is available on the Diosese of Shrewsbury website by clicking on this link.
Annual Mass Attendance Count 2021
The Annual Mass Attendance counts for 2021 is now complete.
The first of the Annual Mass Attendance counts was made on the weekend of 18th/19th September. The second, third and fourth counts will be taken on the 25th/26th September, 2nd/3rd October and 9th/10th October 2021.
Sacristans Wanted
St. Francis Church are looking for Sacristans, men or women, who can arrange and serve at Holy Mass either daily or days to be arranged. Please speak with Br Jinson for further details.
Singers Wanted for Sunday 9:45am Mass Choir
Anyone who loves singing and would like to join the new Sunday 9:45am Mass Choir, please see Peter Cooke after the 9:45am Sunday mass.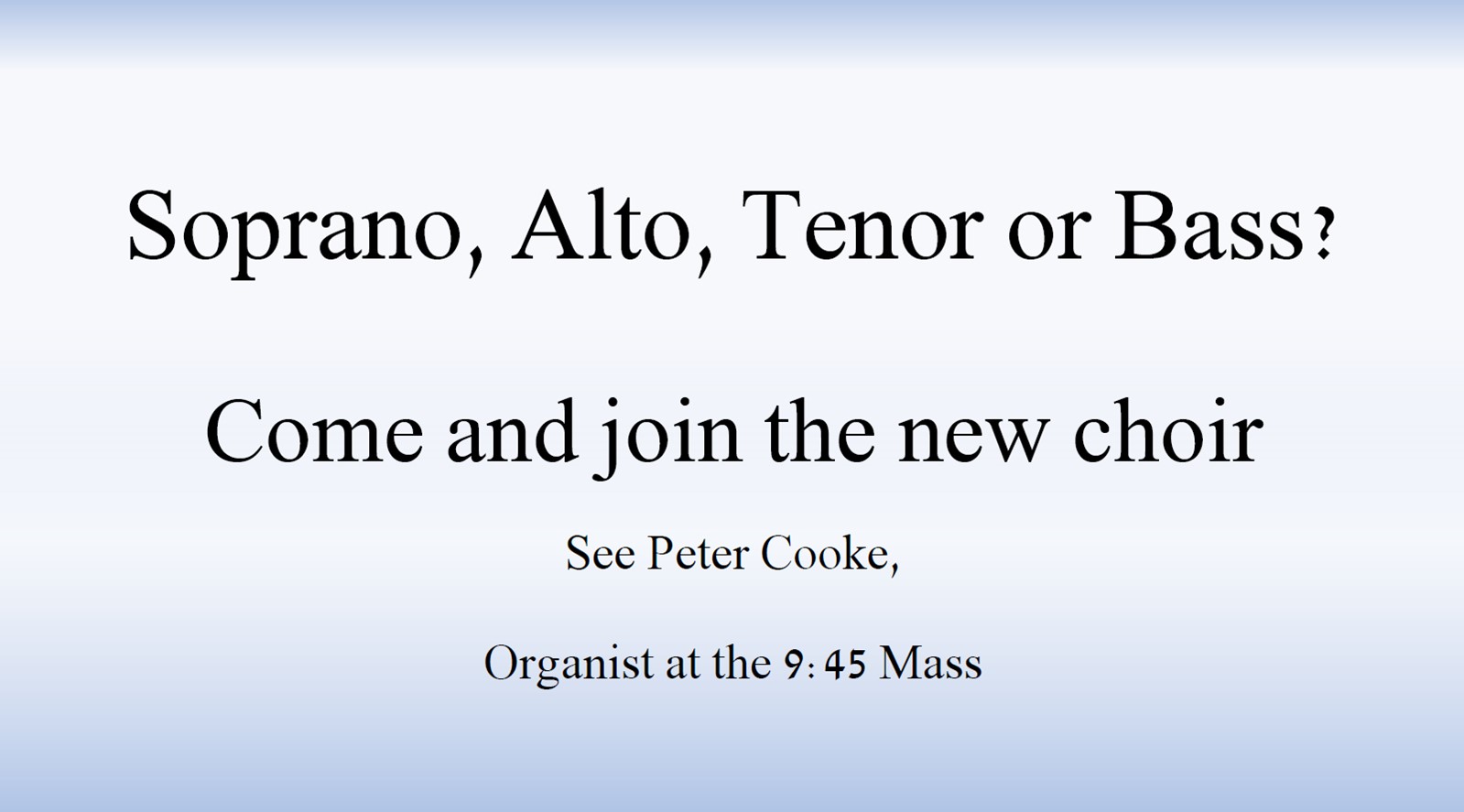 Sunday 9:45am Mass - Hymns & Music
Sunday 17th October 2021 Twenty Ninth Sunday in Ordinary Time
Organ Prelude: Elevation In C (L. Boellmann)
Entrance: 753, 'To Christ The Prince Of Peace' (Tune - Narenza)
Sung: 518, Kyrie; 529, Gloria; Psalm; Alleluia; 570, Sanctus; 591, Agnus Dei
Communion: Choir Motet 'Lead Me Lord' (Words - Psalms 5 and 4; Music - S.S. Wesley)
Recessional: 644, 'Alleluia, Sing To Jesus' (Tune - Hyfrydol)
Organ Postlude: Grand Choeur In F Sharp Minor (Cesar Franck)
Sunday 24th October 2021 Thirtieth Sunday in Ordinary Time
Organ Prelude: Prelude In A Minor (J.S. Bach)
Entrance: 807, 'Praise, My Soul, The King Of Heaven' (Tune - Praise My Soul)
Sung: 518, Kyrie; 529, Gloria; Psalm; Alleluia; 570, Sanctus; 591, Agnus Dei
Communion: Priere In E Minor for Organ (Cesar Franck)
Recessional: 846, 'Amazing Grace' (Tune - Amazing Grace)
Organ Postlude: Fugue In A Minor (J.S. Bach)
Pope Urges Faithful to Receive Covid Vaccinations as an 'Act of Love'
The Pope has joined his voice to those of Bishops across North and South America to urge people to get jabbed against Covid-19.
In a video message produced in conjunction with the Ad Council, Pope Francis praised the work of researchers and scientists in producing safe and effective Covid-19 vaccines.
The full article and quotations from the video are available on the Diosese of Shrewsbury website by clicking on this link.
Covid Regulations and Restrictions
The Brothers would like to thank everyone for following the Covid regulations and restrictions. Special thanks to the stewards for helping people to understand what is required.
New Covid Guidelines
Following the statement from the Catholic Bishops of England on Thursday 15th July 'Sunday - It Is Our Day' (link available here) and advice from our our Bishop Mark, I humbly request all those who come to St. Francis Church respect the following guidelines;
We encourage the use of face masks
Use the provided sanitiser for your hands
Respect social distance wherever possible
Use the cleaning wipes provided to clean your area before you leave the church
Deposit the used wipes in the bins

However, please note that these recommendations are no longer mandatory. As always, many thanks to our stewards. Help yourself and others to be safe.

Br Jinson20th July 2021

St Francis Church Repository Reopens

Our repository is now open and you will find a new range of gift ideas and cards. All purchases go towards the upkeep of the Church and helping our Parish community.

There is a wonderful selection of beautiful gifts, cards, pictures, candles, rosary beads and ornaments for sale at very reasonable prices.

Why not come along and have a look and buy someone special a present!

Chester Sacrament of Confirmation Wednesday 23rd February 2022

The long awaited, next Chester parishes Sacrament of Confirmation celebration will be on Wednesday 23rd February 2022 at St. Columba's. To be Confirmed in February, you must already be at high school now, however there is no upper age limit.

If you wish to be Confirmed, want information or have any questions, please email stcolumbatheresaconfirmation@hotmail.co.uk or contact Denise Lusk on 01244 379742. If you wish to join the adult preparation group, please also introduce yourself to Father William.

Chester Pastoral Forum

After the initial meeting of the 'Chester Pastoral Forum' which took place on 22nd October 2018 we have decided to improve the communication between the Catholic Parishes in Chester. From this week onward on our parish noticeboard next to our parish newsletter we will put the newsletters from all other parishes, so every our parishioner would be able to see what is going on in Catholic Parishes in Chester. On our website we have added links to the Chester Church websites below.

Links to Chester Catholic Church Websites

Holy Days Of Obligation 2021

Click on this link to the Liturgy Office for further information and a list of Liturgical Dates.

Feast Days

The 'Feast Days' page has been added to the main menubar. There is now a direct link to the Wiki page for each feast day. Just click the name to open up the information in a new tab.
See Feast Days


| Date | Feast Day (click on the name to find out further information) |
| --- | --- |
| | |
| Monday 11th October | St. John XXIII – Pope c1881 – 1963 |
| Tuesday 12th October | St. Wilfred Bishop, c634 – 709 |
| Wednesday 13th October | St. Edward the Confessor c1003 – 1066 |
| Thursday 14th October | St. Callistus I Pope, Martyr, c200 |
| Saturday 16th October | St. Hedwig Religious, c1174 – 1243 |
| | St. Margaret Mary Alacoque Virgin, c1647 – 1690 |
| | St Richard Gwyn Schoolmaster, Martyr, 1537 – 1584 |
| Sunday 17th October | St. Ignatius of Antioch Bishop, Martyr, c100 |
| Monday 18th October | St. Luke Apostle, Evangelist |
| Tuesday 19th October | Ss John de Brébeuf and Isaac Jogues, Priests, and their Companions Martyrs |
| | St Paul of the Cross Priest, 1694 – 1775 |
| | St. Peter of Alcantara Died c1562 – Canonised 1699 |
| Friday 22nd October | St. John Paul II Pope, 1920 – 2005 |
| Saturday 23rd October | St. John of Capestrano Priest, c1386 – 1456 |
| | |

Mass Intentions

| Date | Time | Intention |
| --- | --- | --- |
| | | |
| Monday 11th October | 12:00 noon | Owen Scanlan RIP |
| Tuesday 12th October | 12:00 noon | Special Intention |
| Wednesday 13th October | 12:00 noon | Anna Adkins |
| Thursday 14th October | 12:00 noon | Friars and Benefactors |
| Friday 15th October | 12:00 noon | Vocations |
| Saturday 16th October | 12:00 noon | Deceased family members of Williams/Podraski |
| | | |
| Vigil Mass | 6:30pm | Adam Chidell |
| Sunday 17th October | 8:00am | Parishioners |
| | 9:45am | Michael Hailes RIP |
| | 12:00 noon | Polish - Intention of Donor |
| | 4:30pm | Polish - Dorota and Adam on their 25th Wedding Anniversary |
| | | |
| Monday 18th October | 12:00 noon | Ann RIP |
| Tuesday 19th October | 12:00 noon | Peggy Healy RIP |
| Wednesday 20th October | 12:00 noon | Pauline Hackett RIP |
| Thursday 21st October | 12:00 noon | Priests and Religious |
| Friday 22nd October | 12:00 noon | Michal RIP |
| Saturday 23rd October | 12:00 noon | Sheila, good health |
| | | |

Anniversaries

Prayers are requested for those whose anniversaries occur this month ✟ Requiescat in Pace ✟

Date
Names
11.10
Christopher Barry Kennedy (2010)
12.10
John Briordy (TBA)
13.10
Guisseppe De Rose (2003), Reginald Dobbins (1997)
14.10
Thomas Power (1998)
16.10
William Anthony Pritchard (2004), Michael Leo Hughes (1999)
17.10
Edward Morton (1998)
19.10
Veronica Moss (2000), Ronald Robinson (1998)

To view anniversaries for the whole year visit our Prayers Page

Sick Parishioners

Please let us remember our sick parishioners in our prayers:

Terry Halpin, Kath Heffeman, Barbara Edwards, Kevin Roberts, Margaret Davis, Hilary Linty, Patrick Hannah, Elle Mae Dunne, Elaine Bruce, Colin Williams, Christopher Browne, Gill Wright, Emma Noble, Veronica Comerford, Julia Milan, Eleanor Milan, Colette Lazenby, Rita James, Maria Owen, Janka Whitlock, Tony Kane and Rose Kane.

Franciscans In Chester: St Francis' Church and Friary Photographs Wanted

They say that a photograph is worth a thousand words. We are currently looking for any photographs of St Francis Church and St Francis Roman Catholic school in Cuppin Street, 'the Sisters' (ie the Faithful Companions of Jesus from Dee House) or other teachers and pupils at the school. Any photographs used will be credited, scanned and made available on-line as part of the history of St Francis School and Church. Please pass any photographs in and envelope with your name, address and a contact number to one of the Brothers. We will simply scan which photographs we wish to use and pass them back to you.

The book can be found by clicking on a new tab on the top menu called 'History'. It was originally published in 2000 to commemorate the hundredth anniversary of the consecration of St Francis's church in Chester and the 125th anniversary of its opening.

A guided tour of the church was published on our website last year and the full book has now been digitally published over the last twelve months setting out the Catholic and Franciscan history which gave rise to the church, friary and parish.

The book has been brought completely up-to-date with new pictures and topics in this digital edition. Be sure to have a look at our 'History' page and discover the origins of our beautiful Church.

Virtual Church Tour

Our virtual Church tour is now live and accessible via the 'TOUR' tab on the far right of the menu bar or by clicking 'Tour' on the Latest News item. Please have a look and let the other people know how interesting and informative it is. We found it fascinating and learnt so much about St Francis Church and it's history. Alan, Peter and Bernard have done a great job with the tour. We are sure that people all over the world would enjoy a virtual tour of our beautiful Church.

Prayers Web Page

We have set up a very special web page on our internet site which records all the anniversaries of family and friends who have died in the Parish. Throughout 2016 we will be updating this page adding dates of death and special epitaphs.

The page says the following; 'Prayers are requested for those whose anniversaries occur this month. May they Rest In Peace.' Due to the size of the list and the work involved in updating the list, names will be added to the web page each month during 2015 as the year progresses. It is also possible to include the date of death and a short personalised epitaph for your loved ones which will be displayed next to their name. To add relatives, dates or a personalised epitaph to the anniversary list please email to information to; stfrancis.chester@gmail.com We will try to update your information as soon as possible but please allow up to 28 days for the website to be updated.

See Prayers Web Page


The Order Of Mass: Printable Leaflets

We have included an on-line link to the printable 'Order Of Mass' leaflets from the Liturgy Office website which we will leave on our website as a 'Useful Link'.

Here is a direct link to the web page The Order of Mass Printable Leaflets