News
Prayer Intentions
During Ordinary Time (Winter) and up to Lent we are asked to pray for these intentions: Peace on Earth; Christian Unity; The sick and those who care for them; Victims of Trafficking and those who work to combat it; The Unemployed.
Lent 2020
26th February is Ash Wednesday. On this day, the Church formally summons its sons and daughters to enter into this period of prayer, almsgiving and self-denial, in preparation for the celebration of Easter. All Masses will include the rite of blessing and distributing ashes. The Masses will be as usual: Convent 8am; St Francis 12 noon. Although not a day of obligation, there will be an extra Mass at 7pm in Polish, for those who cannot make it to the other Masses.
Please note that it is a day of fasting for those between the ages of 18 and 60. It is also a day of abstinence from meat for everybody. Let us enter into this solemn period, asking Our Lord's blessing on our penitential efforts, and pray especially for those who are preparing for the Easter sacraments.
Stations of the Cross – every Friday after 12.00 noon Mass in English and 7pm in Polish, throughout all of Lent.
The Lenten Alms Church Box is at the back of the Church.
Fr Wiaczeslaw Barok from Belarus
We welcome Fr Wiaczeslaw Barok from Belarus who came to learn English and will stay with us for 5 weeks. He attends the English classes at school and also helps Br Jarek with hearing confessions and saying Masses in Polish. Please keep him in your prayers.
The Re-dedication of England as the Dowry of Mary: Sunday 29th March 2020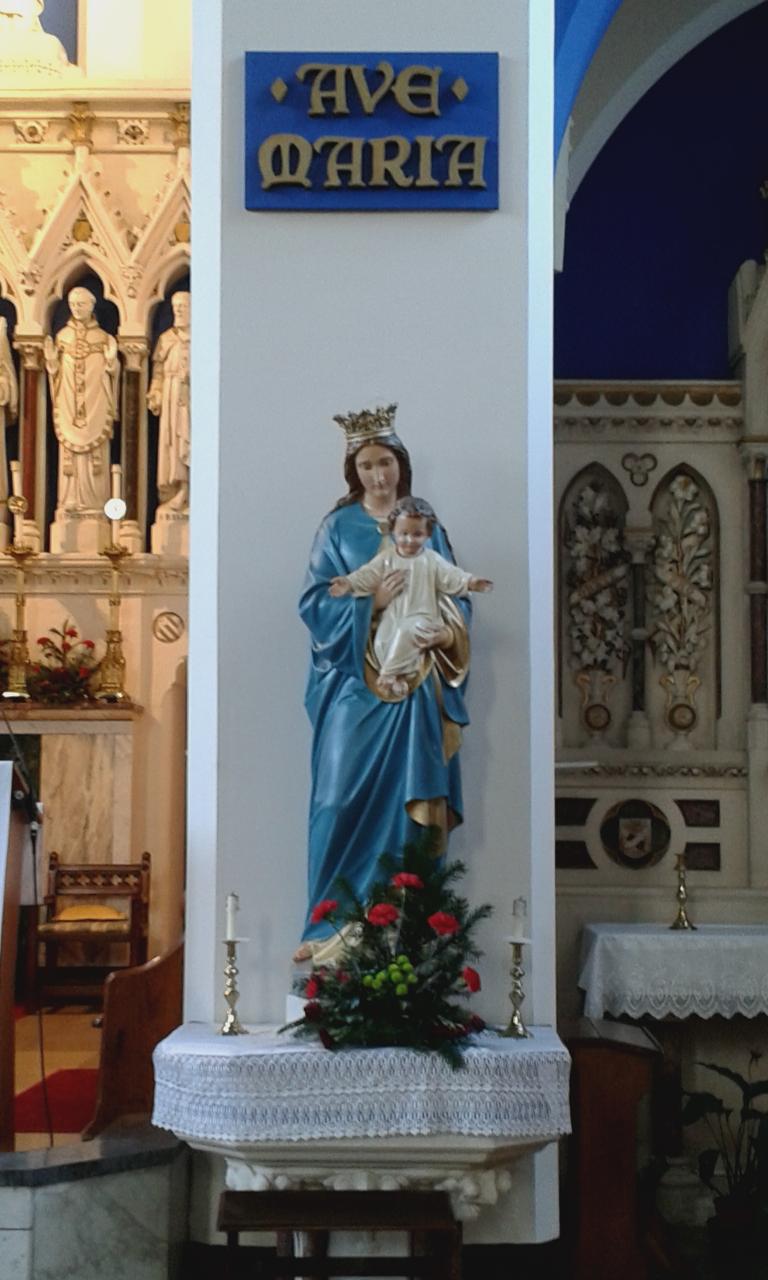 The Statue of The Blessed Virgin Mary
This Re-dedication on March 29th 2020 is a both a personal promise of the people of our country, and a renewal of the entrustment vows made by King Richard II in 1381. On Sunday 29th March at 12noon, The Re-dedication will take place throughout the country. As King Richard II once gave England as a gift to Our Lady, so we are invited to give ourselves, as the people of this country, to Mary.
We respond to this invitation on the day of Re‑dedication in two ways; by making a personal promise and a communal entrustment.
Our personal promise brings us closer to Mary, the first disciple of Christ. In this we unite in her joy by following her openness to God's call.
Our communal entrustment unites us together as the people of our country in prayer, by renewing the vows of dedication made to Mary by our ancestors.
More information on: https://www.behold2020.com/
Chester Pastoral Forum
After the initial meeting of the 'Chester Pastoral Forum' which took place on 22nd October 2018 we have decided to improve the communication between the Catholic Parishes in Chester. From this week onward on our parish noticeboard next to our parish newsletter we will put the newsletters from all other parishes, so every our parishioner would be able to see what is going on in Catholic Parishes in Chester. On our website we have added links to the Chester Church websites below.
Links to Chester Catholic Church Websites
Holy Days Of Obligation 2020

Click on this link to the Liturgy Office for further information and a list of Liturgical Dates.

Feast Days

The 'Feast Days' page has been added to the main menubar. There is now a direct link to the Wiki page for each feast day. Just click the name to open up the information in a new tab.
See Feast Days


| Date | Feast Day (click on the name to find out further information) |
| --- | --- |
| | |
| Friday 21st February | St. Peter Damian Bishop, Doctor of the Church c1007 – 1072 |
| Saturday 22nd February | The Chair Of St. Peter Apostle |
| | |