News
Prayer Intentions
During Lent we are asked to pray for these intentions: Candidates for the Sacraments; Women; The Needy and Hungry of the World; Penitents and Wanderers.
Holy Days Of Obligation
Click on this link to the Liturgy Office for further information and a list of Liturgical Dates.
Lent 2018
Stations of the Cross – every Friday after 12.00 noon Mass in English and 7pm in Polish,through all of Lent.
The Lenten Alms Church Box is at the back of the Church.
Feast Days This Week
Mass Intentions
| Date | Time | Intention |
| --- | --- | --- |
| | | |
| Friday 16th February | 12:00 noon | Monica Knights RIP |
| Saturday 17th February | 12:00 noon | Friars and Benefactors |
| Vigil Mass | 6:30pm | Jan Duea Marion RIP |
| Sunday 18th February | 8:00am | Marjorie Hart RIP |
| | 9:45am | Ralph Bowker RIP |
| | 12:00 noon | Polish Mass - Intention of Donor |
| | 4:30pm | Polish Mass - Intention of Donor |
| | | |
| Monday 19th February | 12:00 noon | Marjorie M Whyte |
| Tuesday 20th February | 12:00 noon | Thanksgiving for the answered prayer |
| Wednesday 21st February | 12:00 noon | Eddie Davies RIP |
| Thursday 22nd February | 12:00 noon | Michael P Finn RIP |
| Friday 23rd February | 12:00 noon | Monica Knights RIP |
| Saturday 24th February | 12:00 noon | Eileen Morgan RIP |
| | | |
Anniversaries This Week
Prayers are requested for those whose anniversaries occur this month ✟ Requiescat in Pace ✟
Date
Names
21.2
Eileen Jones (2016)
24.2
Mary Slater (1997)
To view anniversaries for the whole year visit our Prayers Page
Collection
| Type | Amount |
| --- | --- |
| | |
We have collected £ 304.75 for the White Flower Appeal, thank you all for the generous support.
Notice of Second Collections
| Date | Second Collection |
| --- | --- |
| | |
| 24-25th February | Family Fast I CAFOD |
| | |
Gift Aid Scheme
Joining the scheme - for those people not taking part in the gift aid scheme, or those regularly completing white envelopes each week, if you would like to participate and obtain a box of weekly envelopes then please see Fr Jarek after Mass. Please note you need to be taxpayers to join. For every £1 donated by a taxpayer the parish can claim 25p from HM Revenue & Customs. Tax status - please note that if you are currently part of the scheme and no longer pay tax would you please let Fr Jarek know, otherwise it will be assumed that you have paid sufficient income tax for the parish to claim the tax on your donations.
Sick Parishioners
Please let us remember our sick parishioners in our prayers:
Angela Crowe, Pauline Rowlands, Terry Halpin, Gertrude and Arthur Wright, Anne Daly, Kath Heffeman, Barbara Edwards, Kevin Roberts, Margaret Davis, Hilary Linty, Patrick Hannah, Elle Mae Dunne, Elaine Bruce, George Jones, Colin Williams, Christopher Browne, Gill Wright, and Christina North.
Franciscans In Chester: St Francis' Church and Friary Photographs Wanted
They say that a photograph is worth a thousand words. We are currently looking for any photographs of St Francis Church and St Francis Roman Catholic school in Cuppin Street, 'the Sisters' (ie the Faithful Companions of Jesus from Dee House) or other teachers and pupils at the school. Any photographs used will be credited, scanned and made available on-line as part of the history of St Francis School and Church. Please pass any photographs in and envelope with your name, address and a contact number to one of the Brothers. We will simply scan which photographs we wish to use and pass them back to you.
The book can be found by clicking on a new tab on the top menu called 'History'. It was originally published in 2000 to commemorate the hundredth anniversary of the consecration of St Francis's church in Chester and the 125th anniversary of its opening.
A guided tour of the church was published on our website last year and the full book has now been digitally published over the last twelve months setting out the Catholic and Franciscan history which gave rise to the church, friary and parish.
The book has been brought completely up-to-date with new pictures and topics in this digital edition. Be sure to have a look at our 'History' page and discover the origins of our beautiful Church.
The Journey in Faith Group (RCIA)
The Journey in Faith Group (RCIA) meet each Wednesday at 6:45pm in the Church. This group is meant, not only for those interested in becoming Catholics, but also for practising Catholics who would like to deepen their faith.
Thursday Prayer Group
We are so grateful to God that for over a year now we have been meeting weekly to pray, to reflect and to share. We pray for our parish and our country in the sacramental presence of our Lord. We reflect on inspired readings and most of all on God's Word. We share our thoughts and life experiences as Christian brothers and sisters. You are more than welcome to join in weekly, or biweekly or just once in a while when you can make it on Thursday evenings from 6:30 p.m. in the choir of the friary. Entrance is through the green friary door.
If you have questions call deacon Peter on 07497 752272. See you there!
The Rosary: 11:30am Monday - Friday
The custom of praying the Rosary as a family is strongly encouraged, even if it is just to say one decade. In our Parish, the rosary is recited at 11:30am, Monday to Thursday, and all are welcome to join in.
Eucharistic Adoration at St Francis Church
Every Friday from 11.00 am – 12 noon and after Mass until 3.00 pm
Also Saturday from 11.00 am – 12 noon
Divine Mercy Prayer Group
Our Divine Mercy Prayer Group is held every Wednesday 3:00pm in the Church.
Youth Group for 10 - 14 Year Olds
Our new St. Columba's and St. Theresa's youth group, began meeting on Monday 9th October, from 7.15 to 9pm. The group will meet on the second Monday of each month in the Iona Chapel, at the back of St. Columba's church, then move over to the church hall. Each session will have a relevant theme, lots of faith based activities, games and fun, ending with prayers. If your child would like to join please email Anthony Hunt on Hunta@christofidelis.org.uk for more information, the consent form and so we can get refreshment numbers.
St Francis Rambling Group
Having completed the Bishop Bennet Way, the Rambling Group is now staring its winter programme of walks on quiet country lanes, thereby keeping out of muddy fields. Distances are around 8 miles, so up to about 4 hours' walking. We aim to start and finish at or near a cafe so that we can warm up over a hot drink afterwards. Everyone is welcome to join us, for more details please contact Peter Bamford on 07870 543503.
Virtual Church Tour
Our virtual Church tour is now live and accessible via the 'TOUR' tab on the far right of the menu bar or by clicking 'Tour' on the Latest News item. Please have a look and let the other people know how interesting and informative it is. We found it fascinating and learnt so much about St Francis Church and it's history. Alan, Peter and Bernard have done a great job with the tour. We are sure that people all over the world would enjoy a virtual tour of our beautiful Church.
Prayers Web Page
We have set up a very special web page on our internet site which records all the anniversaries of family and friends who have died in the Parish. Throughout 2016 we will be updating this page adding dates of death and special epitaphs.
The page says the following; 'Prayers are requested for those whose anniversaries occur this month. May they Rest In Peace.' Due to the size of the list and the work involved in updating the list, names will be added to the web page each month during 2015 as the year progresses. It is also possible to include the date of death and a short personalised epitaph for your loved ones which will be displayed next to their name. To add relatives, dates or a personalised epitaph to the anniversary list please email to information to; stfrancis.chester@gmail.com We will try to update your information as soon as possible but please allow up to 28 days for the website to be updated.
See Prayers Web Page

The Order Of Mass: Printable Leaflets
We have included an on-line link to the printable 'Order Of Mass' leaflets from the Liturgy Office website which we will leave on our website as a 'Useful Link'.
Here is a direct link to the web page The Order of Mass Printable Leaflets
Job and Diocesan Vacancies
When available, job vacancies are also advertised on the Diocese of Shrewsbury website here.
Adoremus, The Eucharistic Congress: Liverpool, 7th – 9th September 2018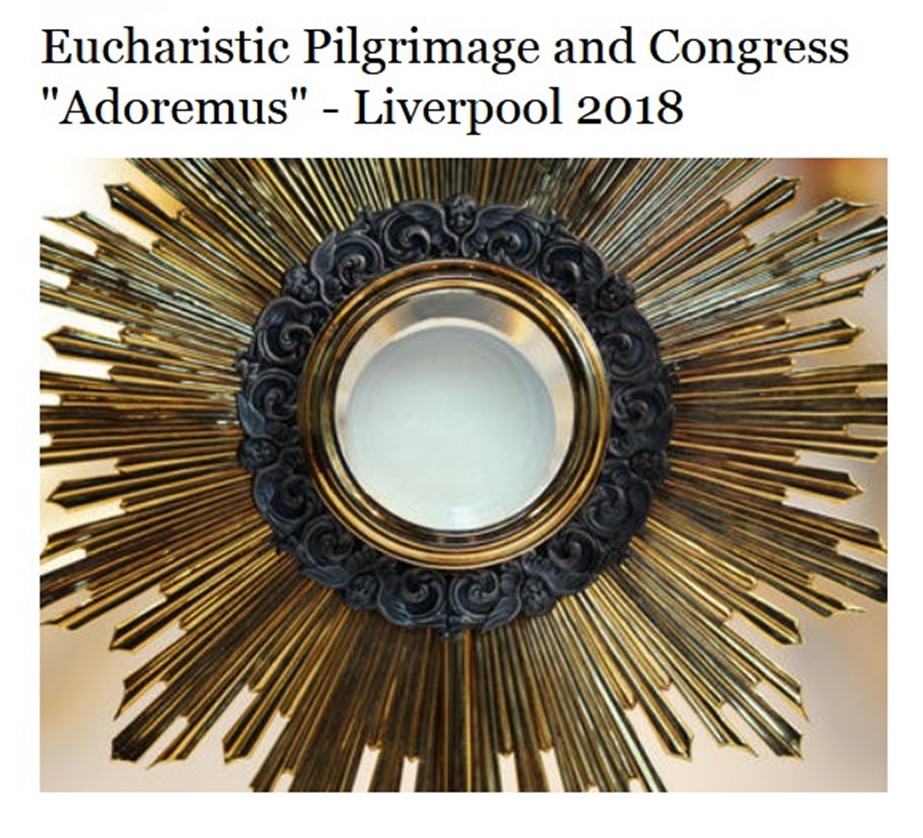 Adoremus, The Eucharistic Congress will take place in Liverpool on 7-9 September 2018. Cost details are given as £40 per person for attendance for a session taking place on Friday 7 September (intended for those involved in catechesis and formation) or for Saturday 8 September (ie £40 per day). This cost also includes "privileged places" to one of 2 solemn Masses at The Metropolitan Cathedral of Christ the King in Liverpool on Sunday 9 September. If you are interested to participate please talk with Br Jarek. Full details are available from the announcement page of the Catholic News website. www.catholicnews.org.uk