Events in October 2021
Church Plans Novena to Pope St John Paul II in Bid to Halt Bill for Assisted SuicideThursday 14th October - Friday 22nd October 2021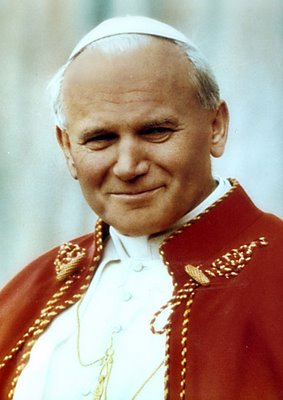 Catholics throughout England and Wales are to be invited to pray a novena for the intercession of Pope St John Paul II as part of the attempt to help to defeat the new assisted suicide Bill.
The Bishops of England and Wales are planning nine days of prayers to the saint after they saw that peers will debate the Assisted Dying Bill of Baroness Meacher at Second Reading in the House of Lords on his feast day of October 22.
The novena will conclude on the day of the debate.
The full article is available on the Diosese of Shrewsbury website by clicking on this link.
Twenty Ninth Sunday in Ordinary TimeSunday 17th October 2021
Thirtieth Sunday in Ordinary TimeSunday 24th October 2021
All Saints Sunday 31st October 2021
---
Future Events
Chester Sacrament of ConfirmationWednesday 23rd February 2022
The long awaited, next Chester parishes Sacrament of Confirmation celebration will be on Wednesday 23rd February 2022 at St. Columba's. To be Confirmed in February, you must already be at high school now, however there is no upper age limit.
If you wish to be Confirmed, want information or have any questions, please email stcolumbatheresaconfirmation@hotmail.co.uk or contact Denise Lusk on 01244 379742. If you wish to join the adult preparation group, please also introduce yourself to Father William.