Events in May 2018
'Time For Jesus': Friday 4th May 2018
On Friday 4th May we continue the special celebration 'Time for Jesus' which started on Friday 7th November 2014. It will begin at 11.00 am with the Exposition of the Blessed Sacrament and Sacrament of Reconciliation then at 12 Noon there will be Holy Eucharist followed by the Exposition of the Blessed Sacrament which will be held until 9.00 pm.
During this time there will be:
Midday Prayer of the Church after Mass;
Divine Mercy Prayer at 3.00pm followed by the Holy Rosary;
Mass in Polish at 6.30pm;
All the time there will be a Priest available for the Sacrament of Reconciliation.
At 9pm a group of parishioners will continue with prayer and readings in the small Chapel behind the main altar until 1am. All are welcome.
'First Holy Communion': Sunday 6th May 2018
On Sunday 6th May at 12 noon Mass, 12 Polish children will receive their First Holy Communion. Please keep them and their families in your prayers during this special solemn time.
'Secular Franciscans Group': Sunday 6th May 2018
This is the date of the May meeting of the S.F.O. at 2.15pm in the Friary. Please note all future meetings of the S.F.O. will now take place on the first Sunday of each month.
The rule and life of the Secular Franciscans is this: To observe the Gospel of Our Lord Jesus Christ by following the example of Saint Francis of Assisi, who made Christ the inspiration and the centre of his life with God and people. (From the Rule of the Secular Franciscan Order).
If you would like to know more, please contact the minister of the Chester fraternity; Mrs Kate Hughes OFS, 7 Lansdowne Grove, Chester, CH4 8LD, telephone 01244 683538. Or follow this link to the national Secular Franciscan website; The Secular Franciscan Order of GB
Monday Club: Monday 7th May 2018
The Monday Club are a group of retired/semi-retired parishioners who get together on the first Monday of each month at 2:00pm in the Hall. They arrange trips out for meals, visits to Garden Centres and other activities throughout the year. Anyone who would like to attend the meeting and take part in future activities of the Group would be very welcome to join them.
Shrewsbury Lourdes Hospitality: Saturday 12th May 2018
To all members of the Shrewsbury Lourdes Hospitality At the last AGM we voted to begin a working party to look at our constitution and ensure that it is fit for purpose for the future. We have met a couple of times and have come up with some draft proposals. We will meet again at St Mary of the Angels, Hooton on Saturday, 12th May at 1.30pm. Anyone who wishes to join us will be very welcome. If you would like to receive a copy of the existing constitution and the suggested changes or, if you are unable to join us but want to make a comment, please email me at annerogowski584@hotmail.com and I will ensure that your points are fed back. We hope to have a final proposal ready to put before the AGM in September. Anne Rogowski.
Fruitful Discipleship: Saturday 12th May 2018
"Fruitful Discipleship: Living the Mission of Jesus in the Church and the World": A chance to hear Mrs Sherry Weddell, international author, on Saturday 12th May 2018, St Ambrose College, Hale Barns WA15 0HE (9:30/10:00-15:30, please bring lunch).
Sherry has a wealth of experience helping people deepen their personal relationship with God and living out its implications in mission; she is a speaker who will both inspire and encourage. Everyone welcome. Enquiries: Barbara Davies 07730 526 821 or Helen Jones 0151 652 9855. Details and Registration: www.dioceseofshrewsbury.org.
CCRS: The next module, The Person of Jesus: Saturday 19th May 2018
CCRS: The next module, The Person of Jesus, led by Fr Tony McGrath for the Catholic Certificate of Religious Studies began on Saturday 19 May. You may start the course (comprising 8 modules) at the beginning of any module A non-certificate option is also available (no essays) – registration forms and details are on the website at www.dioceseofshrewsbury.org/education/ccrs.
---
Events in June 2018
The Rambling Group: Wednesday 6th June 2018
The rambling group has started its series of summer evening rambles. The next walk will be on Wednesday 6th June. These are gentle walks lasting no more than two hours, with a refreshing drink at a convenient hostelry afterwards for those in need. Ideal for first-time ramblers!
The rambles will normally take place on the first Wednesday of each month until September. Routes will be decided beforehand according to weather conditions. If you would like to know more, please contact Peter Bamford on 07870 543503.
NightFever: Friday 15th June 2018
On Friday 15th June we'll be launching a 'NightFever' programme in St Francis' Church Chester. We will start with Mass at 7pm. Adoration will begin at 8pm running through until 10:30pm. NightFever is a fairly new idea and requires a small team of willing volunteers to go out into busy town/city centres inviting passers-by to come into church to light a candle and experience Adoration. There is also the opportunity to receive the Sacrament of reconciliation.
NightFever is hugely successful across Europe and the USA. So please do come along to Mass and spend some time in prayer during adoration after. If anyone would like to volunteer/more info please contact Ant Hunt on 07714 160 268
---
Events in July 2018
Multidisciplinary Conference on Sex and Gender for Catholic Educators: 13th-14th July 2018
Venue: St Mary's University, Waldegrave Rd, Twickenham, TW1 4SX Dates: 13th-14th July 2018 Web site: www.sexandgender2018.com
For: All those working in the Formation of Young People, including teachers, parents, chaplains, catechists and pastors.
Goal: To equip educators and formators with a full and positive vision of the human person in his or her sexuality, so that they can better serve those who struggle with confusion in this area. There will also be a legal workshop to help them know where they stand with regard to the law.
---
Events in August 2018
The Diocesan Pilgrimage to Lourdes: 26th July – 3rd August 2018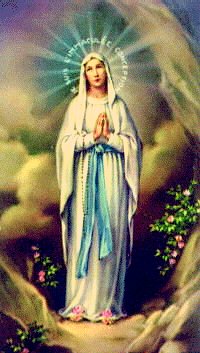 This year marks the 160th anniversary of the apparitions of Our Lady to Bernadette in Lourdes. The Diocesan Pilgrimage will take place from 26th July - 3rd August overland and 27th July - 2nd August by air.
Brochures and booking forms can be downloaded from the Pilgrimage Website: www.shrewsburypilgrimage.co.uk or from the;
Pilgrimage Office: St Alban's, 30 Mill Lane, Wallasey, CH44 5UD.
This year flight seats are limited so early booking is recommended.
Lifeteen Summer Camp UK #LTCAMPUK, 5th – 9th August 2018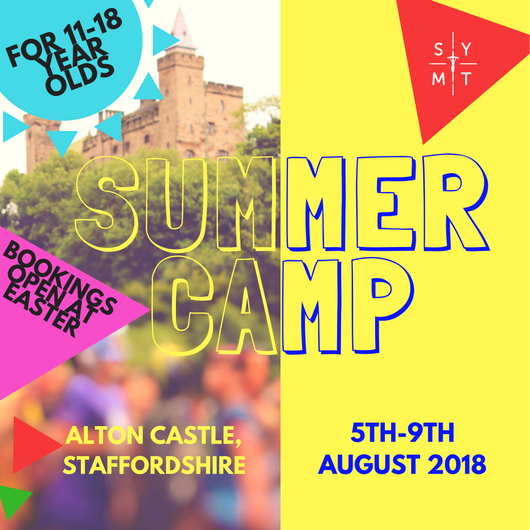 What: Lifeteen Summer Camp UK #LTCAMPUK A week packed with high-adrenaline outdoor adventure including archery, mountain biking, climbing and much more. Enjoy a full day at Alton Towers and of course Mass, Reconciliation, amazing music, Eucharistic Adoration and talks from international speakers.
Why: Journey with new friends, be transformed as you pray, share and have fun together. Encounter your faith in a new way and delve deeper into what God has in store for you!
Where: Alton Castle, Staffordshire, ST104TTWhen: Sunday 5th - Thursday 9th August 2018 Who: For young people aged 11-18 Donation: The cost is £265 per person, but we ask for a minimum of £185. Group Leaders: Youth Leaders from Parishes are encouraged to attend with their young people, clergy too! We encourage Parishes to sponsor their Leaders donation for the Camp. Clergy are FREE to attend!
Booking: Bookings are now open. Email to register your interest youth@dioceseofshrewsbury.org
Full details are available from the 'What's On' page of the Shewsbury Youth Mission Team website. www.symt.org.uk
---
Events in September 2018
Adoremus, The Eucharistic Congress: Liverpool, 7th – 9th September 2018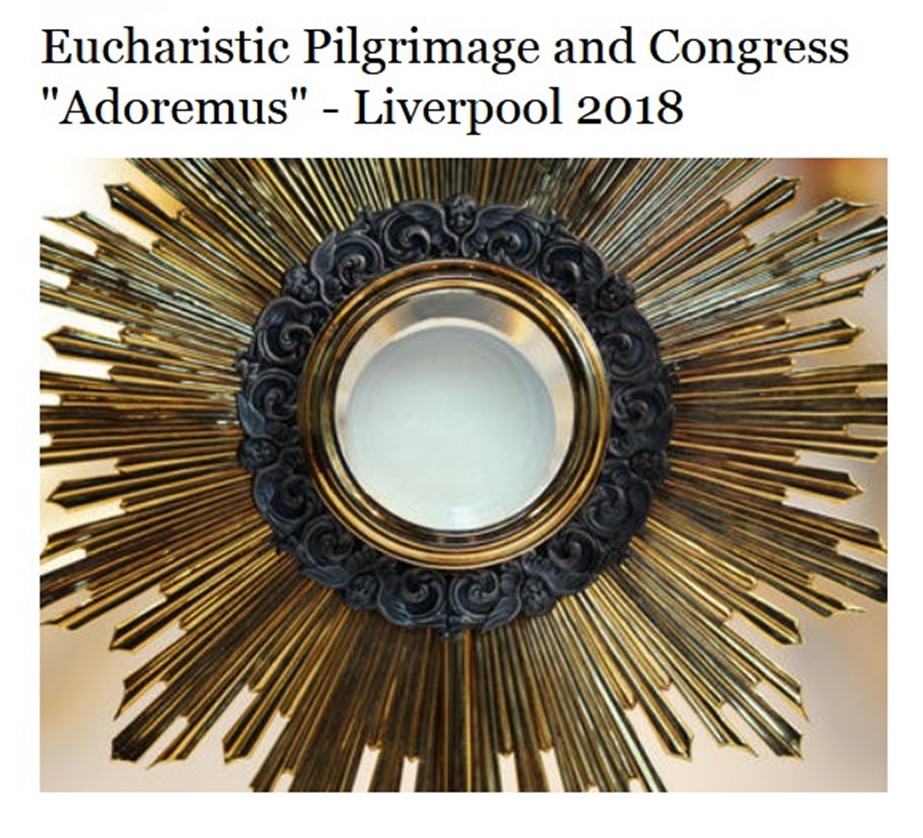 Adoremus, The Eucharistic Congress will take place in Liverpool on 7-9 September 2018. Cost details are given as £40 per person for attendance for a session taking place on Friday 7 September (intended for those involved in catechesis and formation) or for Saturday 8 September (ie £40 per day). This cost also includes "privileged places" to one of 2 solemn Masses at The Metropolitan Cathedral of Christ the King in Liverpool on Sunday 9 September. If you are interested to participate please talk with Br Jarek. Full details are available from the announcement page of the Catholic News website. www.catholicnews.org.uk