Events in February 2020
Vacancies for Foundation Governors
We have a number of vacancies for Foundation Governors within our Catholic schools across Cheshire. In looking to such appointments, key requirements of Foundation Governors are: - that they should be practising Roman Catholics; and - that they genuinely believe in the value and the importance of Catholic Schools.
Is this you? Are you able to offer your services? For more information and/or an application pack please contact Sue Blackwell, Governance Support Officer, either by email: sue.blackwell@dioceseofshrewsbury.org or telephone on 0151 652 9855.
Year of the Word Diocesan Spring Talks: Sun 16th, Wed 19 & Sat 22nd February 2020
Everyone is welcome to come and reflect on the Word of God; no prior study needed. The same talk is given in three different areas of the diocese, as follows:
Talk 1. Fr Nick Kern on Dei Verbum/ Word of God (Vatican II)
Sun 16th February, Sacred Heart and St Peter's, Baguley, 19:00-20:30 (registration 18:30)
Wed 19th February, St Columba's, Chester, 19:00-20:30 (registration 18:30)
Sat 22nd February, Shrewsbury Cathedral, 11:00-12:30 (registration 10:30)
To Calvary With Matthew: Tuesday 25th February 2020
A series of short talks by David Savage on the Lent Sunday readings for the year of Matthew at 7.30pm in the Iona Chapel at St Columba's Church. All welcome.
Tuesday 25th February, First Sunday: The coming of the tempter.
Tuesday 3rd March, Second Sunday: His face shone like the sun.
Tuesday 10th March, Third Sunday: The living water.
Tuesday 17th March, Fourth Sunday: The man born blind.
Tuesday 24th March, Fifth Sunday: The resurrection and the life.
Bring a Bible and/or Sunday Missal. More information from David Savage 01244 380626.
Funeral Mass for Mr George Martin Jones: Thursday 27th February 2020
We will have the funeral Mass of the late Mr George Martin Jones on Thursday 27th February 2020 at 12.00 noon, followed by committal at Chester Crematorium at 1.20pm.
George was our faithful parishioner coming to 6.30 pm Masses on Saturdays as long as he could and the last few years he was living at Chester Lodge Nursing. His way of dealing with pain and difficulties of daily life was inspirational to all who visited him. He was a great example of real Christian life. Please remember him in your prayers.
Eternal Rest grant unto him O Lord and let perpetual light shine upon him. May he rest in Peace. Amen.
---
Events in March 2020
'Secular Franciscans Group': Sunday 1st March 2020
This is the date of the March meeting of the S.F.O. at 2.15pm in the Friary. Please note all future meetings of the S.F.O. will now take place on the first Sunday of each month.
The rule and life of the Secular Franciscans is this: To observe the Gospel of Our Lord Jesus Christ by following the example of Saint Francis of Assisi, who made Christ the inspiration and the centre of his life with God and people. (From the Rule of the Secular Franciscan Order).
If you would like to know more, please contact the minister of the Chester fraternity; Mrs Kate Hughes OFS, 7 Lansdowne Grove, Chester, CH4 8LD, telephone 01244 683538. Or follow this link to the national Secular Franciscan website; The Secular Franciscan Order of GB
Monday Club: Monday 2nd March 2020
The Monday Club are a group of retired/semi-retired parishioners who get together on the first Monday of each month at 2:00pm in the Hall. They arrange trips out for meals, visits to Garden Centres and other activities throughout the year. Anyone who would like to attend the meeting and take part in future activities of the Group would be very welcome to join them.
Hospital Mass: Thursday 5th March 2020
At 12:15pm on the first Thursday of each month a Mass is celebrated in the Chapel of the Countess of Chester Hospital. This is for patients/outpatients, staff, families, friends and the wellbeing of our hospitals, including the Bowmere. All are welcome.
'Time For Jesus': Friday 6th March 2020
On Friday 6th March 2020 we continue the special celebration 'Time for Jesus' which started on Friday 7th November 2014 and will be continued every first Friday of the month. It will begin at 11.00 am with the Exposition of the Blessed Sacrament and Sacrament of Reconciliation then at 12 Noon there will be Holy Eucharist followed by the Exposition of the Blessed Sacrament which will be held until 9.00 pm.
During this time there will be:
Midday Prayer of the Church after Mass;
Divine Mercy Prayer at 3.00pm followed by the Holy Rosary;
Mass in Polish at 6.30pm;
All the time there will be a Priest available for the Sacrament of Reconciliation.
At 9pm a group of parishioners will continue with prayer and readings in the small Chapel behind the main altar until 1am. All are welcome.
Altar Servers' Day: Saturday 7th March 2020
This day is set to be a great event and one we are looking forward to hosting. Saturday 7th March 2020, 10.30am till 3.00pm at St. John Henry Newman Church, Back Brook Place, Knutsford Rd, Warrington, WA4 1JE.
This event is open to all altar servers in the Diocese. The day will have activities and reflections lead by the SYMT (Shrewsbury Youth Mission Team) which will be streamed for different age groups. We will also make sure there is a copious amount of tea and coffee for all adult helpers. The young people will need to bring their own packed lunch.
I know this will be a great day and the more young (and not so young) people we can get together the better the experience will be.
The Re-dedication of England as the Dowry of Mary: Sunday 29th March 2020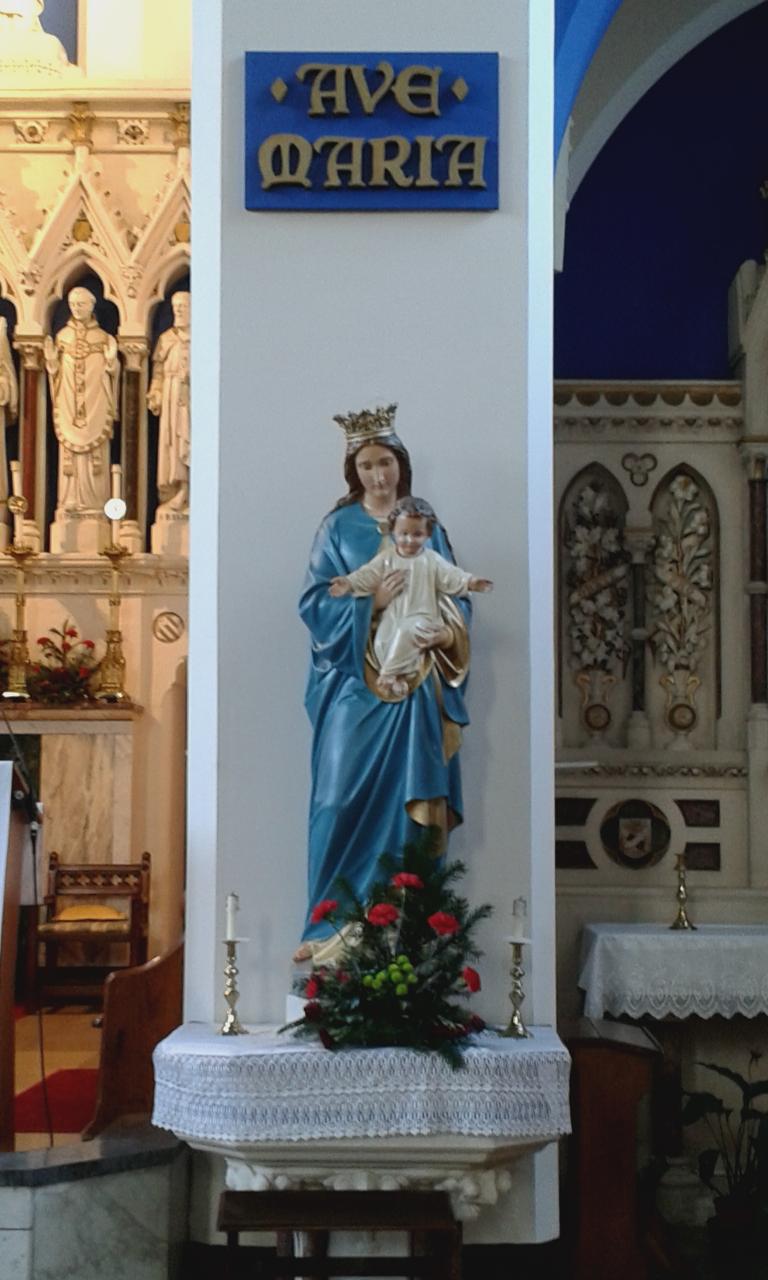 The Statue of The Blessed Virgin Mary
This Re-dedication on March 29th 2020 is a both a personal promise of the people of our country, and a renewal of the entrustment vows made by King Richard II in 1381. On Sunday 29th March at 12noon, The Re-dedication will take place throughout the country. As King Richard II once gave England as a gift to Our Lady, so we are invited to give ourselves, as the people of this country, to Mary.
We respond to this invitation on the day of Re‑dedication in two ways; by making a personal promise and a communal entrustment.
Our personal promise brings us closer to Mary, the first disciple of Christ. In this we unite in her joy by following her openness to God's call.
Our communal entrustment unites us together as the people of our country in prayer, by renewing the vows of dedication made to Mary by our ancestors.
More information on: https://www.behold2020.com/
---
Future Events in 2020
The St Columba's parish pilgrimage to Our Lady's Shrine at Walsingham will take place from Monday 27th April to Thursday 30th April. The cost (assuming 50 including driver on pilgrimage) will be £203.00 per person including coach travel, accommodation and meals in Walsingham, and gratuities. En-suite accommodation may be available at premium of £45.00.
For a booking form please contact either of the Parish Secretaries – Carol Galvin at St Columba's office (01244 624019) or Eileen Irwin at St Theresa's office (01244 371660). The pilgrimage is open to the parishes of our Deanery and further afield. A non-refundable deposit of £20.00 is required with the booking.
Lourdes by Across Jumbulance: Thursday 7th - Saturday 16th May 2020
Chester Across Group is off to Lourdes again from Thursday 7th to Sataturday 16th May. Travel is overland by Jumbulance, literally a Jumbo-Ambulance, with seven beds on board.
Franciscan Brother John Cavanagh is Chaplain. Cost including a kitty and insurance is £950 but nurses pay half price. For further information, visit www.across.org.uk or Facebook Liverpool & Chester Across or contact Tony Murphy 07881 656974 or email tonymurphyefc2002@yahoo.co.uk